Provide best-in-class security, plus smart home automation you will love.
ISS of Jamaica' systems communicate even if the phone or cable line is cut, power is out or the Internet or broadband is down. Unlike traditional systems that only alert you in an alarm event, ISS lets you know what's happening at your property at any time.

We provide dedicated cellular connection for your security system;

You can Arm and disarm your security system from anywhere through the Mobile App;

Create unique user codes to see who has armed or disarmed your system, and when;

Provide instant verification of alarms through on-demand views with our motion Image Sensor;

Upgrade compatible 2G or POTS-connected security panels to Alarm.com's award-winning interactive services with the System Enhancement Module;

Crash & Smash keeps security systems working, even if the security panel is damaged;

Using real-time local weather data, the panel will alert you of dangerous weather conditions.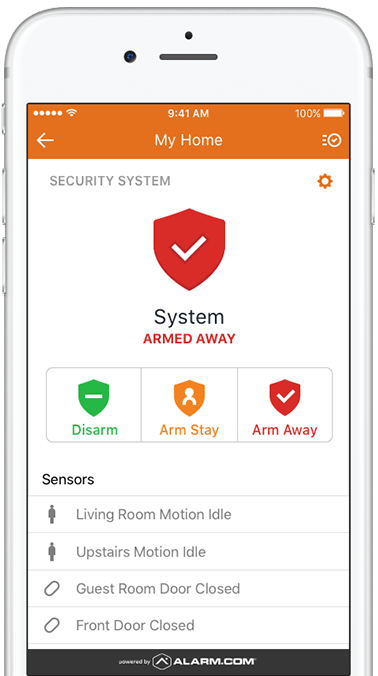 Keep your property safe with (optional) 24/7 professional monitoring and emergency response.


ISS Solutions can be monitored (optional) by our licensed central monitoring station across the country, so you can count on help whenever you need it.
Dedicated Connection
We use a tamper-resistant cellular connection, dedicated solely to your security system. This signaling technology is reliable, and works even if your phone line, cable, broadband and power are down.
Intelligent Safeguards
Our technology learns your home's unique activity patterns and quickly alerts you of unusual events like the garage door being open late at night or a door/window getting opened at an odd time.
Remotely Access Your Site
& Receive Notifications
Unique User Codes

Easily create and disable user codes. Give each user a unique code, then see who has armed or disarmed the system, and when. You can disable codes within minutes from your computer or tablet.

Notifications

Stay aware of important activity at your property anytime, not just when there's an emergency, with customizable text, push notifications and email alerts.
Learn More
Security Panels
Choose from a variety of panels and take advantage of helpful features.
Crash & Smash Protection
A Security System for Your Security System™, this service keeps your system working, even if the security panel is damaged.
2-Way Voice
Talk to the emergency dispatcher directly through the panel.
Extreme Weather Alerts
Using real-time local weather data, the panel will alert you to dangerous weather conditions.
No Problem Is Too Big To Solve.
Choose Interactive Smart Store 
(ISS Security Solutions) for all your home 
and business security needs.